---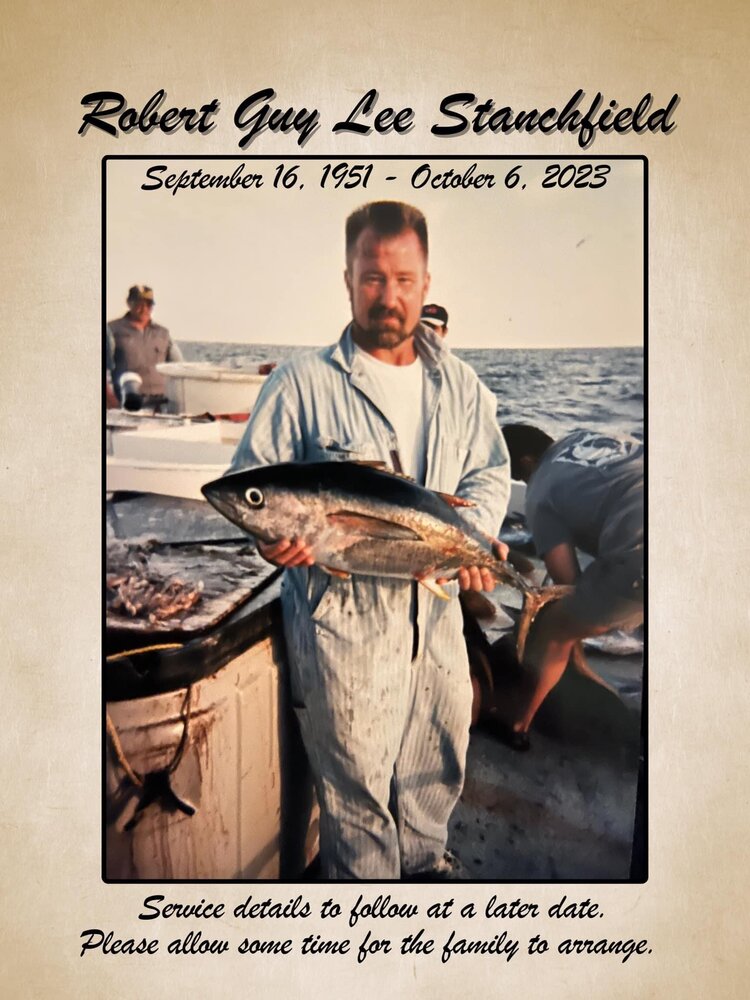 Obituary of Robert Guy Lee Stanchfield
Please share a memory of Robert Guy to include in a keepsake book for family and friends.
Our loving Dad, Guy to everyone else who knew him, peacefully passed away at home, at the age of 72. He left this life to run with wild horses. Guy was born on the U.S. Naval Station in Port Hueneme, California and was the first of five children.
Guy was a protective and caring older brother, when he wasn't getting into mischief. He attended Simi Valley High School graduating in 1968. Early in life, Guy held manual labor jobs like lumberjack, angler, and construction worker. He was always at his most content outdoors, camping by the ocean and surrounded by nature. Life was not always easy for Guy, he faced many struggles, but was so determined when he put his mind to something. In 1983, he completed an Associate of Science degree at Oxnard Community College in Alcohol Studies, and then spent many years helping people who were battling drug and alcohol disease. His exterior was tough, but inside he was filled with so much compassion and joy. Nobody could bring that out better than his children could. He had the great fortune of being loved and married two different times- Valerie Matthews 1975-1982 and Loriel Luckie 1985-2004. Out of those marriages came children whom he was fiercely devoted to until his last breath- Jesse, and Meagan, Josh, Summer, and Hannah.
It should be no surprise that later in life Guy traded in his hard hat for a nurse's coat and Jerry Garcia ties, given his commitment to serving those in need. In 1992, he graduated from College of the Canyons with an Associate of Science in Nursing. He then began working at Kaiser in 1994 focusing specifically on mental health. For 22 years, he was a dedicated employee who truly invested in making a difference in the quality of people's life when they are at their most vulnerable.
Guy's hobbies included fishing, camping, gardening, tinkering in the backyard, and scouring Craig's List for a bargain. He also loved Jelly Belly's, The Rolling Stones, playing the lotto, denim overalls, cracking witty sarcastic jokes, and his gaggle of grand-dogs.
He is preceded in death by his Mother, LaVonne Roselle Stanchfield, his father, Allen Lee Stanchfield, and brother, Samuel Stanchfield. He will remain lovingly remembered by his children, Jesse Lee Stanchfield, Meagan Elizabeth Garris, Joshua Robert Stanchfield, Summer Rose Stanchfield, Hannah Noelle Stanchfield, his sisters, Susan Patrick, Elizabeth Mundell, Anneke Meicher, and the light of his eyes, his grandchildren, Annabelle and Aoife Stanchfield, Kamryn and Carson Guzzo, Corbin Stanchfield, and Samuel Abergel.
A Celebration of Life will be held at Liz and Randy Mundell's home on Saturday, November 18, 2023. In lieu of flowers, the family invites you to buy a lotto ticket in Guy's honor and wishes you the best of luck at winning the jackpot.
Share Your Memory of
Robert Guy
who we are

Rose Family Funeral Home is a family owned and operated business. With kind, caring and capable staff, we take pride in the way we interact with our families and their loved ones. Rest easy knowing that at Rose Family Funeral Home, you'll be treated just like family.
Office hours
Mon: 9am - 5pm
Tue: 9am - 5pm
Wed: 9am - 5pm
Thu: 9am - 5pm
Fri: 9am - 5pm
Sat: 9am-5pm
​​Sun: Closed

location

4444 Cochran Street
Simi Valley, CA 93063
(805) 581-3800
Licence Number: FD 1760