---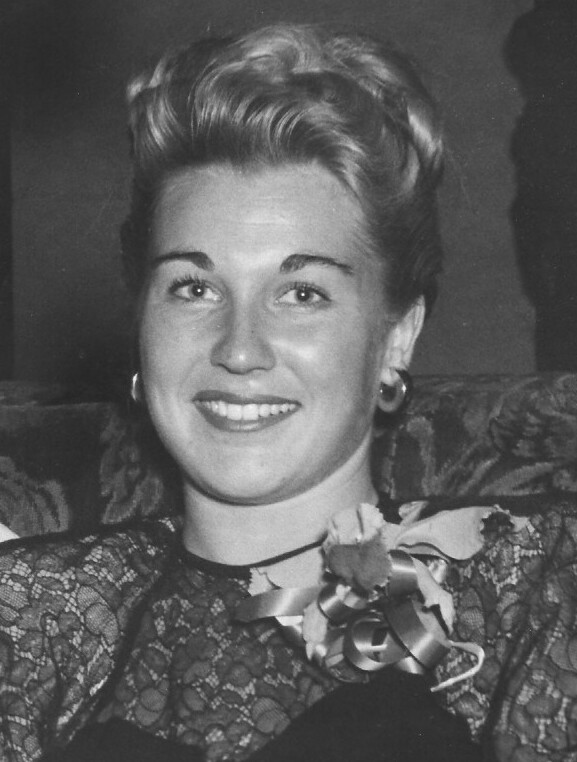 Obituary of Maxine Audrae Kubach
Please share a memory of Maxine to include in a keepsake book for family and friends.
Our beloved, Maxine Audrae (Whelan) Kubach, passed away at Simi Valley Care Center on March 2, 2022 at the blessed age of 95 years old.
Maxine was born to Aubrey and Ida (Neimi) Whelan on August 13, 1926 in Astoria, Oregon. She was an only child. Her father Aubrey was a professional salesman, who moved his family to Los Angeles and worked for Swift & Company. Her mother, Ida was an RN nurse for most of her career, and later in life worked for Orme catering in Hollywood, California. Aubrey and Ida were very loving grandparents to their three grandsons Don, Kent and Joe Moseley.
Maxine graduated from North Hollywood High School in 1944. Shortly thereafter, she began working at 20th Century Fox studios. While working there, she was chosen to have her beautiful legs used in two scenes for the film, "And Then There Were None," in place of the star June DuPrez. Later on, Maxine became a secretary for the famous actor/comedian Danny Kaye, who she adored so much.
In 1946/47, Maxine began attending Woodbury Business College, where she met and later married Joseph P. Moseley, a returning decorated veteran from four years of service in the US Army 1941/45, during WWII. They had three loving sons; Don Preston Moseley, born July 5, 1950; Kenton Broderick Moseley, born April 4, 1952; and Joseph Paul Moseley, born June 14, 1955. In 1970, Maxine married her second husband Wilburn (Bill) Kubach, adding a step-son Timothy Allan Kubach, born November 16, 1952 and step-daughter Kathleen Rikel, born February 17, 1955, all becoming a blended family, until Bill's death in 1996.
Maxine's desire to start working again, led her to be a trailblazer and pioneer for women before it became fashionable. She started working for Silverwoods, a Hart Shaffner & Marx men's clothing chain store at Panorama City in 1956. Starting as a cashier, she would rise to become a top saleswoman and then the very first female store manager. She was later promoted to head the personnel department of her company. After 38 years of professional success at Silverwoods, Maxine finally retired in 1994, with a number of honors and awards attached to her name. We are so proud of her accomplishments and for teaching us the value of a strong work ethic.
Maxine remained widowed after Bill's death until her own passing. She remained in Simi Valley and became a successful leasing agent for the Americana Simi Valley Apartments for several years. She acquired many friends and neighbors that she grew very fond of and who loved her very much. She was a strong and dedicated businesswoman all her life, and a very loving and caring wife, mother, grandmother and great grandmother. She had a beautiful soul with a huge heart and would light up a room with her love and laughter everywhere she went. Her family and friends are extremely saddened by her passing, a true matriarch of her time. Maxine will be greatly missed by all who knew her, and will remain in our hearts forever.
Maxine is survived by her two loving sons and their wives, Kent Moseley (wife Eva) and Joe Moseley (wife Susan) and Peggy (late wife and the widow of son Don Moseley, who passed in October 2021). In addition, she had six wonderful grandchildren; Kim Fiedler, Michael Moseley, Jonathan Moseley, Danielle Moseley, Kate Epper, and Gena Hanna. She also had five great-grandchildren; Kayleigh Fiedler Lopez, Chloe Fiedler, Tyler and Austin Moseley and baby Miles Epper.
Our family thank the many friends and caregivers that have made Maxine's life happier and more content as she grew dependent upon them for support in her later years of life. A special thanks to her dear and longtime friends Beverly, Mary, Milton, Teresa, Sharon, Stephanie and Sandy. Her most recent caregiver Nancy, caring neighbor Marta and the wonderful building management team April, Claudia and Ben at Americana Simi Valley Apartments, for all their love and support throughout the years! Also, Stacy and Agnes from the Simi Valley Care Center for the care they showed on her final day. Words cannot express how thankful we are to all mentioned.
Share Your Memory of
Maxine
who we are

Rose Family Funeral Home is a family owned and operated business. With kind, caring and capable staff, we take pride in the way we interact with our families and their loved ones. Rest easy knowing that at Rose Family Funeral Home, you'll be treated just like family.
Office hours
Mon: 9am - 5pm
Tue: 9am - 5pm
Wed: 9am - 5pm
Thu: 9am - 5pm
Fri: 9am - 5pm
Sat: 9am-5pm
​​Sun: Closed

location

4444 Cochran Street
Simi Valley, CA 93063
(805) 581-3800
Licence Number: FD 1760