---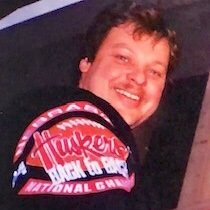 Obituary of Robert Dale Ohlrich
Robert "Rob" Dale Ohlrich, 51 of Simi Valley, California entered into eternal rest on January 15, 2020. Rob, as known by many, was born in Santa Ana, California to Larry and Joyce Ohlrich on February 13, 1968. He is survived by his mother, Joyce Ohlrich of Simi Valley, California, his sister, Constance Mazzetti and her husband, Bob Mazzetti of Half Moon Bay, California, his brother, Jerry Browers of Napa, California, his aunt and uncle, Judy and Jeff Ahrens and their sons, Jamie and Jason, of Palm Dale, California, his cousin Jacquie Lowe of Yorba Linda, California and Ernie Everett of Lake Elsinore, California. He is preceded in death by his father, Larry Ohlrich, his grandmother and uncle, Clara and Johnny Nunn. Rob had a personality bigger than life itself. When he walked into the room he was definitely noticed. His stature of 6' 4" may have helped a little bit. He had a beautiful sense of humor, and the most generous and caring spirit to all he knew. Rob worked in several occupations over the years. Initially he started working in construction (HVAC) with his best friend, Freddie and his fathers construction company. Later, he spent much of his working years at the Thousand Oaks Art Plaza as head bartender and general "do everything " guy with his partner in crime, Sue. Lately, Rob worked at the Courtyard Marriott in Simi so he could be close to his parents to help with their care and that of their home. Rob was incredibly talented in many areas outside of his working life. As a child, Rob enjoyed playing soccer. His father coached his team and together with Rob's talent on the field, led the team to be the champions in their league for many years. As he got older Rob and his father would attend many professional soccer games together. He also loved football, especially college ball, going to Nebraska Cornhusker football games (Go Big Red!) with his friends when they played close to home. Rob taught himself how to build and repair computers. He made computers for many of his friends over the years. Rob also was a master woodworker. He constructed furniture, tables, holiday displays and many household items for others. He loved gaming! He'd play video games with his buddies (Freddie and Timmy among others) for hours! Whenever he got the chance he'd go to Vegas with his friends. He was also a avid fan of Disneyland, Star Wars, Marvel and DC Comics. In the past few years he really got interested in cooking and barbecuing. It's as if this was a hidden talent, he enjoyed preparing all sorts of food for his family and friends, who were never disappointed in the delicious meals. All who knew Rob, enjoyed his crazy, goofy, fun, sarcastic and lively personality. We will miss your huge presence in our lives. You were sincerely the most generous and caring person in our lives, always putting others before yourself. Unfortunately you passed how you lived your life, thinking of everyone else. May you Rest In Peace and God willingly, you and dad don't cause too much havoc up there! Funeral services will be at Rose Family Funeral Home on Thursday, January 23, 2020. Chaplin Jay will be officiating and a private burial will follow at a later date with his close family. Rose Family Funeral Home will be handling the funeral arrangements. Memorial donations can be made to the American Heart Association at www.heart.org - scroll to the bottom and give your donation as a tribute to Rob.
Memorial Service
6:00 pm - 9:00 pm
Thursday, January 23, 2020
Rose Family Funeral Home Chapel
4444 Cochran Street
Simi Valley, California, United States
Reception
7:00 pm - 9:00 pm
Thursday, January 23, 2020
Rose Family Funeral Home Chapel
4444 Cochran Street
Simi Valley, California, United States
Share Your Memory of
Robert
who we are

Rose Family Funeral Home is a family owned and operated business. With kind, caring and capable staff, we take pride in the way we interact with our families and their loved ones. Know that with Rose Family Funeral Home, you'll be treated just like family.
recent news

Rose Family Funeral Home was recently featured for supplying the community with Free Little Libraries. Click here for more information.