---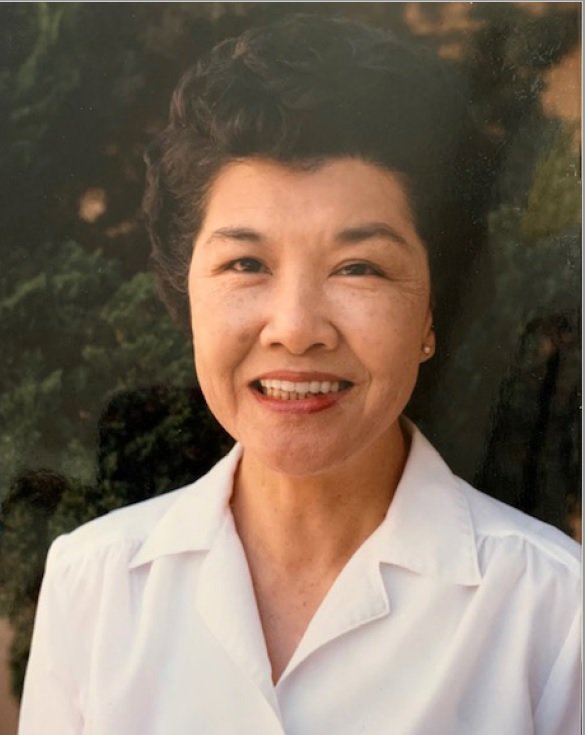 Obituary of Ruth Elizabeth Ah Tye
Our cherished Mom, Ruth Ah Tye, born in Phoenix, Arizona November 20, 1923, peacefully transitioned away from planet earth on December 11, 2019, to the celestial Heavens of God's universe. She blessed us for nearly a century!
Ruth graduated from Mills College with a music major, played violin and piano, and slapped our hands during piano lessons. Her son Kirk took on guitar instead, her daughter Sondra stuck with piano. Ruth's passion for music permeated our home life, instilled our love for all sorts of music.
When we kids were gone, Ruth worked for Simi Valley Adult Ed., where she was Employee of the Year and regaled us with stories of eccentric people she encountered.
An avid reader, Ruth taught Kirk very early about the amazing transcendence of literature and writing, which Kirk used in his law practice and current writing career. When first married, Ruth won a vacuum cleaner in a national writing contest.
She taught Sondra how to stand up for what's right, follow your dream, like the Elvis song, and, by her example, to be genuinely interested and concerned about people's lives, even those of strangers, and to treat all people with respect.
When Ruth met Dad, Tom Ah Tye, he was a tall dashing guy who had just left the Air Force as a tail gunner and attended a church social in Los Angeles, where Ruth had relocated. Tom's savvy mom spotted the delectable Ruth serving refreshments and instigated the world's fastest introduction -- which would elongate into seven decades of marriage.
Ruth had an impish sense of humor, a genteel feistiness and insightful outlook on life. An incomparable cook, she was ahead of the curve on nutrition. At Kirk's friends' houses they'd load up on savory desserts and carbs; at Ruth's house, sliced apples and vegetables. Oh, yum!
Ruth leaves a rich life and marvelous legacy including her husband, Tom; offspring Kirk (Deborah) and Sondra; grandchildren Caleb (Ruth), Sean (Kate), Rory (Paula) O'Connor, and Torrey Ah Tye (Ryan Iutzi); great-grandchildren Ezekial, Jubilee, Renzo and Kaile'a O'Connor; her sister Pearl Joe, predeceased by her parents, Elizabeth and Ben Liu, and brothers Herbert, Kenneth and Frank Liu.
Our Ruth, the best-ever Mom, is beloved. She gave us our lives. She is always in our air. She is eternal.
A Memorial is scheduled for the New Year at Rose Family Funeral Home, 4444 Cochran St., Simi Valley, CA on January 25, 2020, at 2:00 p.m. Reception with meal to follow service 3:00 -6:00 p.m.
In lieu of flowers, donations may be made to Saint Mark's United Methodist Church, 306 E. Clay Street, Stockton, CA 95206. Thank you.
Share Your Memory of
Ruth
who we are

Rose Family Funeral Home is a family owned and operated business. With kind, caring and capable staff, we take pride in the way we interact with our families and their loved ones. Know that with Rose Family Funeral Home, you'll be treated just like family.
recent news

Rose Family Funeral Home was recently featured for supplying the community with Free Little Libraries. Click here for more information.