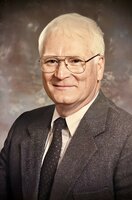 Richard Kenneth Torst
Richard (Dick) Kenneth Torst, 90, of Simi Valley, CA, passed away on March 4, 2023, at his home in Simi Valley.
Funeral service will be held at The Church of Jesus Christ of Latter-Day Saints on March 21, 2023, at 1276 Erringer Road at 11am. Burial will follow at Simi Pioneer Cemetery located at 1461 Thompson Lane.
Richard was born in Huntington Park, CA, to Kenneth and Irene Torst on March 1, 1933. After graduating from Venice High School, he enlisted in the U.S. Army where he became an Expert Marksman. While stationed at Okinawa, Japan, he discovered The Church of Jesus Christ of Latter-Day Saints and was baptized in the surf of the Pacific Ocean. Richard never wavered in his love of the Savior Jesus Christ and expressed great faith in His Gospel. When he left the Army, he used the GI Bill to go to school at Brigham Young University, where he met and fell in love with Arlene. They married in 1957.
He loved the outdoors, spending countless days camping, hunting, and fishing whenever he could. For a time, he toured and recorded with his friends in The Shenandoah Trio, recording two albums and making several television appearances. He worked as a graphic artist at Hughes Aircraft Company in Canoga Park, CA, which provided him with the ability to support his growing family. Vacations were often spent in Kings Canyon National Park, where he perfected the art of trout fishing. He taught his children to have a deep love of nature, who then taught their own children to love the outdoors. When he retired from Hughes, he indulged his love of fishing by chartering weekly boats to the Channel Islands to fish for calico bass. During one vacation in Kings Canyon, he found a piece of wood naturally shaped like a fishing lure. Inspired, he began carving his own fishing lures to use in the kelp beds of the Channel Islands. The calicos never stood a chance when he was throwing his hand-made creations.
Richard was a man of many gifts - artist, songwriter, guitarist, athlete, fisherman, hunter, storyteller – but his greatest gift was his family whom he loved dearly. Arlene was the love of his life. He was devoted to her and no other, and she loved him. They raised seven children, sometimes under trying circumstances, but they were always unified together in the effort. He passed on his gifts and talents to his children and grandchildren. We are a family of artists, musicians, athletes, fishermen, and we all love the outdoors. In the outdoors we will find him and feel his love.
Richard is preceded in death by his beloved wife, Arlene, his oldest son, Robert, and his beautiful daughter, Mary. He is survived by Debra (Moore), Elizabeth (Jones), Matthew (Torst), Jennifer (Herr), and Susan (Bautista), as well as twenty-six grandchildren and fifteen great grandchildren.
I Know a Land
I know a land where the milk and honey flow
Over the mountains where the summer goes
Where the sun is always shining and winter's on the shelf
But if you go there, better go there by yourself
From where I stand, my life looks like a waste
All that I've gained are lines upon my face
And a wrinkled brow from a worried mind
Gal, if you ain't leaving, I'm leaving you behind
Don't look at me with teardrops in your eyes
Don't kiss my face when I say goodbye
Let go my hand, oh, let my dream alone
If you're not going, I'm going on my own
'Cause I know a land where the milk and honey flow
Over the mountain where the summer goes
Where the sun is always shining and winter's on the shelf
But if you go there, better go there by yourself
Somehow, I waited just a child too long
I couldn't go until he'd grown and gone
By then my dream had ended right where it began
And so, I sit here, my hat still in my hand
But I know a land where the milk and honey flow
Over the mountain where the summer goes
Where the sun is always shining and winter's on the shelf
But if you go there, better go there by yourself
- Richard Torst