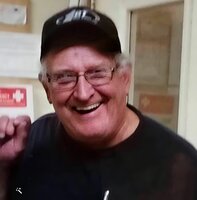 Dewey Philippe Hubert
Dewey Philippe Hubert, 86 years old, passed on Friday, Sept. 10, 2021 at home.

Dewey was born on Sept. 9, 1935 to the late Leo and Jeanette Hubert in Lowell, MA, the oldest of five children. He was in the saw sharpening business from the age of 14, working in his father's shop. The Hubert family moved to California in 1957 where they continued that legacy. Dewey retired in 2017.

Dewey loved listening to Dixeland jazz, Big Bands and Santana, showing his musical diversity. He and his wife, Kay enjoyed wine tasting and often met friends in Paso Robles for dinners and tastings.

Dewey is survived by his wife of 42 years, Kay; daughters Janet, Diana, Norma, Paula and son, John; brothers Norm, Henry and sister, Denise; 6 grandchildren; 5 great grandchildren; 5 nieces; 3 nephews.

He is preceded in death by his first wife, Victoire Damboise and his brother, Ralph Hubert.