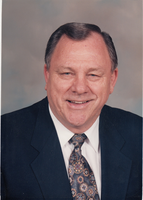 James Cecil "Jim" Noe
James Cecil Trowbridge Noe Jr. was born on August 24th, 1935, in Huntington Park, CA, to Mary Logan Noe and James Cecil Trowbridge Noe. Jim grew up in Beverly Hills, CA, and his fondest memories were his father bringing home miscellaneous parts that needed to be put together, which put Jim's mind to work. His father was a talented musician, and could play nearly all the instruments in the orchestra. Jim's grandfather, James Thomas Cotton Noe, was the first Poet Laureate of Kentucky.
Throughout school, Jim excelled at sports-- especially football. He was recruited by Stanford University to play football for them on a 4-year scholarship. Unfortunately, Jim suffered a bad concussion (after already having had a few in high school) during a game, and ended his Stanford career. However, UCLA asked Jim to reconsider, and he accepted their offer. He played there until having a career-ending concussion.
No accomplishment comes close to what Jim described as "the best thing to ever happen to him": meeting Julie Dean in the ninth grade. Jim and Julie were married on December 21st, 1957, and have three children: Jack ('60), Jeff ('63), and Janet ('67).
Jim was a thermodynamicist, and had a wonderful career throughout the years. He worked at places like Douglas Aircraft, AirResearch, and his own companies such as Alpha United (now known as Creative Energy Concepts), and NoMac Energy Systems (now known as Capstone Turbine). During the years of 1990 to 1994, Jim designed and developed a 30 kW generator set for Capstone Turbine that became their most successful product. It offers a very efficient electrical power unit operating on gaseous fuels such as natural gas and hydrogen. To date, Capstone Turbine has sold over 10,000 units of Jim's product. Another accomplishment Jim was proud of was designing a 2 stage Brayton cycle solar powered generator set.
Jim was a faithful follower of God, as well as a devoted husband, father, and grandfather. He loved the Lord and was always very involved in the various churches he and Julie attended. Jim loved coaching Jack and Jeff in their sports, and also loved watching his ballerina, Janet. He will be deeply missed by his family, friends, and all who knew him.