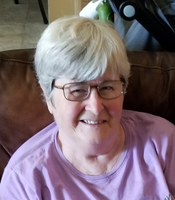 Barbara Eve Powell
Barbara Eve Powell of Whittier, CA passed away on the morning of October 1, 2020 at the age of 82.
Barbara was born in Kansas to Clifford and Marjorie Carlson. She worked in a handful of professions before settling down as a systems analyst for LA county for 20 years and retiring young at 57.
She enjoyed playing cribbage, eating pumpkin pie or chocolate pudding with copious amounts of whipped cream, training and showing dogs, and watching the Dodgers play ball.
She is survived by her brother Clifford "Lanny" Carlson, her sister Gloria (Terry) Seto, her two daughters, Marilyn (John) Groot and Nancy Russell, her dear friend Toni (Tom) Bostick, her two Pulis Ian and Daisy as well as eight grandchildren, Jantje (Brittany) Groot, Ian Groot, Sebastian Groot, Ramsey (Jaime) Russell, Clayton (Stephanie) Russell, Summer Russell, Hillary Russell, and Angus Russell and eight great grandchildren Abbey, Autumn, Brody, Hans, Phoenix, Kiana, Hilde and Lila.
In lieu of flowers, please donate to the Los Angeles Mission in honor of Barbara.