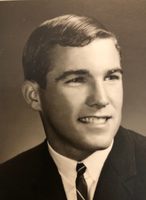 Robert Ashton Theobald
Robert Theobald passed away on September 5, 2020, with his family by his side.
Born in Stockton, CA on December 14, 1946, Robert grew up in Marin County before finding his way to Southern California for high school and college. It was at Cal State Northridge (then called Valley State College) that his life would change forever.
In 1965, he met his soul mate, Karen Goldstein. Karen and Robert had their first date in the spring of 1965 in Westwood, CA. As Karen recalls it, he took her hand, and the rest was history. They wed in 1969 and were at each other's side for 51 years, always each other's greatest partner, advocate, and protector. Through challenges and triumphs, of which there were many, they remained in each other's corner, filling the other with strength, optimism, and love. Their relationship, their respect and pride for one another, is a shining example of what marriage is meant to be.
Robert's first love in life was his family. Having not had a father of his own, Robert dedicated himself to his three sons. His energy and time were devoted to their happiness and success. His roles were many - father, counselor, guide, coach, tutor, bike riding partner, cheerleader, best friend, and countless others. Through his daily acts of kindness; through his simple words and guidance; through is time and care; he displayed unconditional love and pride, which continues beyond his lifetime.
Robert levied the same devotion as a father to his favorite title, grandfather, and to his seven grandchildren. His time with them, though too short, left an indelible mark – filling them with that same sense of unconditional love and pride. He traveled the country for moments, big and small, to ensure they knew they were loved and supported.
Robert also dedicated himself to community. As Planning Director of Westlake Village from 1985 to 2012, Robert worked tirelessly to ensure that Westlake Village would be a place where generations of families could flourish and create memories. The same thing he worked so hard to build at home, he wanted to build for others, and his work is forever etched in every corner of the city.
Robert had many passions. He loved sailing. He loved Lake Tahoe and the home he created there. He loved his dog, Sierra. He loved home improvement and fixing broken things. He loved reading. He loved corny jokes. He loved family vacations and the intimate time he was able to spend creating memories and finding adventure. He loved connecting with his half-brother and half-sister, family members he had not been able to know as a child, and welcoming their families into his own. He loved life, he instilled a sense of love of it in others, and he took advantage of every moment.
Robert is survived by his loving wife of 51 years, Karen Theobald, his three sons Todd Theobald, Travis Theobald, and Tyler Theobald, his seven grandchildren Isabelle Theobald, Kieran Theobald, Lucienne Theobald, Elle Theobald, Caden Theobald, Nixon Theobald, and Cora Theobald, his sister Cathleen Peck, and his half-brother and sister Mike Theobald and Shelly Biskup. He will be forever missed. He will be forever remembered and celebrated.
In lieu of flowers, the family is asking that donations be made in Robert's honor to the Leukemia & Lymphoma society at: https://charity.gofundme.com/o/en/campaign/in-memory-of-bob-theobald